References
Edit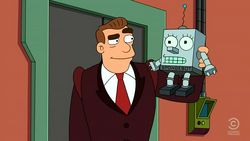 During the filming of Rumbledy-Hump, Bender sings the line "I like turtles." This may be a reference to the popular YouTube video.
Leela is shown working for the company Ticklelodeon, a parody of Nickelodeon. One of the mascots is "Spongebot Squarebolts", a parody of the main character in the TV show SpongeBob SquarePants.
The fembot Bender makes out with is a parody of Hannah Montana.
Ad blocker interference detected!
Wikia is a free-to-use site that makes money from advertising. We have a modified experience for viewers using ad blockers

Wikia is not accessible if you've made further modifications. Remove the custom ad blocker rule(s) and the page will load as expected.