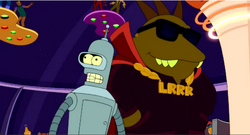 Hey Futurama fans!
Some of you may have noticed that there are now Hulu clips of Futurama right on the Futurama Wiki!
Thanks to Wikia's partnership with Hulu, you'll be able to watch some of your favorite clips at our exclusive Hulu Panel here!
Hurry and relive some of your funniest Futurama moments! The videos will be up for a limited time so now's your chance to watch and laugh at your favorite Futurama spot!