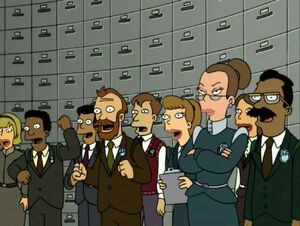 Hello, I'm Ellipses485. I was born, reared, and am currently a university student in central Wisconsin, that great North American capital of dairy production (screw you California). I'm pretty knowledgeable about the English language (grammar and such), history of basically any genre, and I'm also an Administrator for this wiki, so feel free to direct any questions or comments at me via my talk page.
My To-Do List
Edit
I post the following list of tasks I am going to try and complete, in the hopes that anyone who might read it and feels inclined to help me could do so. If you do feel so inclined, please contact me on my talk page or just do it yourself.
1. Add finishing touches to the new Policy Page.
2. Finish updating the Futurama Wiki's Manual of Style: This is probably going to have to wait until we can agree on a style to manualize, but it's on the list never-the-less.
3. Come up with a short list of great articles in each major category (or close enough) so that we can try and figure out that style. Ultimately I'd prefer a well done article for a main or recurring person or thing and one which appears less often in each category (of which I think the following would be good).
In-Universe

Characters
Species
Organizations/Groups
Inventions
Locations/Planets
Events (see next below)

Out-of-Universe

Episodes/Films
Cast
Crew
Guests
4. Try and get events made into pages. While we often summarize events on the pages for relevant episodes, we rarely have one for the events themselves, and I think that would be a nice direction to eventually expand the Futurama Wiki.
Contributions
Edit
I've made quite a few contributions to the Futurama Wiki, that have earned me that most coveted of titles; "User of the Month" for July of 2009. While they are usually minor edits, I've also added some new pages and reorganized exiting ones into better articles. Here are a few pages that come to mind: