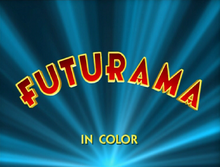 Welcome!
Edit
Welcome to the Futurama Wiki, your information source for Futurama! Futurama is a series that follows the adventures of Fry, Leela, Bender and others! The series was cancelled by FOX After the fourth production season and fifth television season. In 2006, it was announced by Katey Sagal that the series was going to return, and it was confirmed by Matt Groening. At least thirteen new episodes will be made and they will be aired in 2008 on Comedy Central.
---
We need people to help with, so if you want to help, feel free to do so! Everybody can pitch in so that our database will become more and more complete so that we can become a loyal source for your Futurama needs! Also feel free to register! We are currently working on 2,319 articles, but we need more! So let's get to work.

We do not tolerate jokers or vandalism. Anyone caught doing one of these is banned permanentely! No exceptions! Useless information will be erased and off-topic stuff is not needed here. This is strictly for Futurama.
To begin editing and adding information to the wiki, browse through the links above. Any link that is red has not been created yet and anything that is blue, you can add on to! Familiarize yourself with the wiki by clicking the "Random page" link on the left sidebar. Have fun!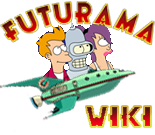 External links
Edit

Futurama on Wikipedia
Futurama Portal
The Futurama Category
The Infosphere


Growing site about Futurama|}