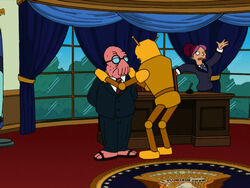 The Magnificent Three was a movie created by Harold Zoid in 3001. It starred Zoid as the President of Earth, Calculon as his son and Vice President. Bender and Dr. Zoidberg played minor parts. Through an elaborate rigging of the award ceremony, the film earned Zoid an Academy Award for Best Actor.
The plot of the movie is that the son, Calculon, of the president does not want to follow in his father's footsteps, Harold Zoid, and become the president of earth. The movie ends with Calculon handing in his resignation as vice-president to his father on top of the white house. His father refusеs to accept it and turns around, falling off a ledge. Calculon then becomes the president, much to his dislike.
Appearances
Edit
Ad blocker interference detected!
Wikia is a free-to-use site that makes money from advertising. We have a modified experience for viewers using ad blockers

Wikia is not accessible if you've made further modifications. Remove the custom ad blocker rule(s) and the page will load as expected.