This article is a Stub!

If you help Bender improve it, he can get back to killing all humans.
Please expand the article as well as you can!
I think it's Blotto! That gangster I saw when my patch fell off!

One or more of the images on this page do not conform to the standards we would prefer to see on this wiki. Please help us by uploading and adding a better image.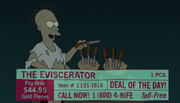 The Eviscerator was the knife used by Philip J. Fry I to try and murder his friends in Bender's Game.
It is presented to fry in a hallucination of a advertisment. To order it, it says to call "1 (800) 4-NIFE". It costs $44.95 Gold Pieces. Its item number is "1101-1816". Its handle is made of "staghorn" and the blade is made of "440 stainless" steel.
Most of it is a reference to a clip of a katana being sold with the same item number, stainless steel type, as well as price on a "Shop At Home TV" where the blade broke and stabbed the seller in the arm.