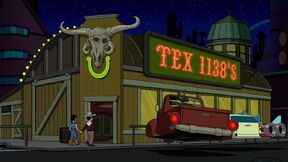 Tex 1138's is a redneck bar in New New York that the Planet Express crew visited in 3013. The bartender is a Neptunian. It has a stage for line dancing, which was used by the whole crew, and has a mechanical buggalo, which was ridden by Bender, Fry, the professor, Hermes, and Leela. Whoever manages to ride the buggalo for the longest gets a free steak dinner. It also has a command centre, located somewhere in Texas. When the crew rode, there was a cowboy's skeleton on the chandelier. During Leela's ride, the buggalo malfunctioned, and she was not able to let go, because, due to her squidification, her hand was stuck to the saddle, so the buggalo had to be shot. She rode for 48.3 seconds, winning the prize.
The bar's name is a reference to the 1971 George Lucas film THX-1138.
Ad blocker interference detected!
Wikia is a free-to-use site that makes money from advertising. We have a modified experience for viewers using ad blockers

Wikia is not accessible if you've made further modifications. Remove the custom ad blocker rule(s) and the page will load as expected.