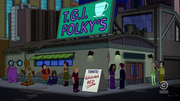 T.G.I. Folky's is a restaurant the crew visited in 3013. They were going to see folk singer Silicon Red, but his performance was interrupted by Bender, who sang his song "The Ballad of Me, Ramblin' Rodriguez". Bender was booed, and Red, after declaring his song insincere, told him to get out.
The back door is marked "AND STAY OUT".
The restaurant's name is a reference to T.G.I. Friday's.
Ad blocker interference detected!
Wikia is a free-to-use site that makes money from advertising. We have a modified experience for viewers using ad blockers

Wikia is not accessible if you've made further modifications. Remove the custom ad blocker rule(s) and the page will load as expected.