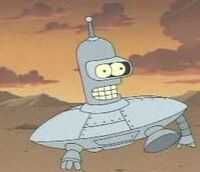 Roswell is a town in New Mexico. The first alien and UFO found on Earth was found in Roswell. The alien turned out to be John A. Zoidberg and the UFO was Bender Bending Rodríguez put togеther incorrectly. The Planet Express crew landed in Roswell when Fry put metal in a microwave during a supernova.
Appearances
Edit
Ad blocker interference detected!
Wikia is a free-to-use site that makes money from advertising. We have a modified experience for viewers using ad blockers

Wikia is not accessible if you've made further modifications. Remove the custom ad blocker rule(s) and the page will load as expected.