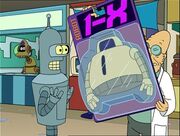 Roboticon 3003 was a robot convention held in 3003. Similar to most conventions, it showcased new products for the next fiscal year.
The robot tycoon, Mom, presented her newest robot model, Robot 1-X. As a selling point, Bender competed in the remedial task of counting change with Robot 1-X.
Robot 1-X completed the task in a short amount of time, while Bender lied about not receiving any change. Due in part to the new, upgraded firmware, Bender and many other robots obsolete and incompatible with Robot 1-X, which was represented by Bender's hatred for Robot 1-X.
In order to solve this problem, most of the effected robots got upgrades.
Appearances
Edit
Ad blocker interference detected!
Wikia is a free-to-use site that makes money from advertising. We have a modified experience for viewers using ad blockers

Wikia is not accessible if you've made further modifications. Remove the custom ad blocker rule(s) and the page will load as expected.