Richard M. Nixon's head
Talk

0
2,188pages on
this wiki
"Haroo!"
―Richard M. Nixon
Richard Milhous Nixon (January 9, 1913 – April 22, 1994) was the President of the United States and is the current President of Earth. By 2999, his still living head was preserved and on display at the Head Museum in New New York City.
Real-life References
Edit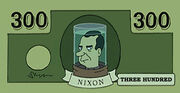 During Futurama there are several occasions upon which Nixon or another character will quote or make reference to his past. During A Head in the Polls, Bender, Fry, and Leela blackmail Nixon by use of audiotape. This is a reference to the famous Nixon tapes. He also says "You're all going to jail, and don't expect me to grant a pardon like that sissy Ford". This is a clear reference to the 38th President of the United States, Gerald Ford. Also, in A Head in the Polls, Nixon stays at the Watergate, a reference to the scandal which caused Nixon to resign. He is very tyrannical and often abused his power while in office but the people did not care about.
Behind the Scenes
Edit
Appearances
Edit
Episodes
Edit
Footnotes
Edit