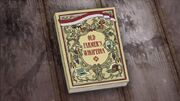 The Old Farmer's Wikipedia was the encyclopedia read by Hermes Conrad after Kif Kroker died.
It apparently contains information on a vast number of subjects. Hermes uses it to find out details about Kif's species, simultaneously upsetting and intriguing Amy Wong, his bride.
The book's name is a parody of both Wikipedia and the Old Farmer's Almanac.
Appearances
Edit
Ad blocker interference detected!
Wikia is a free-to-use site that makes money from advertising. We have a modified experience for viewers using ad blockers

Wikia is not accessible if you've made further modifications. Remove the custom ad blocker rule(s) and the page will load as expected.