"We live long and are celebrated poopers"
―Nibbler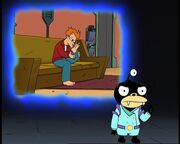 Nibblonians are a race native to the planet Eternium. They stand about one foot tall and have two large eyes, as well as a third eye on a stalk in the center of their foreheads. They have black fur which leaves them prone to hairballs. They have pale yellow circles on their bellies and around their mouths. They are widely considered to be the cutest race ever to exist, though this is something the Nibblonians resent.
The Nibblonians were a proud, ancient race, with a history extending 17 years before the Big Bang. Brilliant and powerful, since the dawn of time they were known to have battled their ancient nemesis, the Brain Spawn.
The Nibblonians live extraordinarily long lives. It is not known at what age, or even if, they die of old-age: all that is known is that they can live far in excess of 1,000 years.
Nibblonians are carnivorous and are able to eat animals with several times their own body mass, it is not known if there is an upper limit on this ability but they have been seen eating animals of a comparable size to large dinosaurs. To be able to eat so much so quickly with no apparent discomfort or signs of distension to their digestive ability allows them to break down food almost instantly and compress the waste into an ultra heavy element. Nibblonians excrete dark matter which is extremely heavy and was used as starship fuel. Nibblonians are capable of exiting the universe by eating themselves whole.
Known Nibblonians
Edit
Appearances
Edit
Episodes
Edit
Ad blocker interference detected!
Wikia is a free-to-use site that makes money from advertising. We have a modified experience for viewers using ad blockers

Wikia is not accessible if you've made further modifications. Remove the custom ad blocker rule(s) and the page will load as expected.