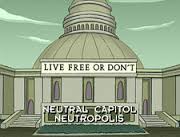 Neutropolis is the capital of the Neutral Planet. Like everywhere else on the Neutral Planet, Nuetropolis is colored simple colors of grey and beige. It is the home of the neutral President. It was also attacked by Zapp Brannigan but the attack failed.
Not to be confused with Neutopia.
Appearances
Edit
Ad blocker interference detected!
Wikia is a free-to-use site that makes money from advertising. We have a modified experience for viewers using ad blockers

Wikia is not accessible if you've made further modifications. Remove the custom ad blocker rule(s) and the page will load as expected.