Mutated Mark Allen Mothersbaugh (born May 18, 1950) is an American musician. In the 31st century, he is still the lead singer of Devo, a job he has kept at least part-time since 1972, but has become a green octopus-like mutant with four eyes, whose DNA is 40% potato. He participated in the Devolution Revolution of September of 3010 that officially granted the sewer mutants their freedom.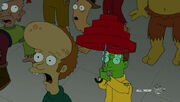 He has a small umbrella (which is very similar to an energy dome) that he used to protect himself from the sewage wave.
Appearances
Edit
Ad blocker interference detected!
Wikia is a free-to-use site that makes money from advertising. We have a modified experience for viewers using ad blockers

Wikia is not accessible if you've made further modifications. Remove the custom ad blocker rule(s) and the page will load as expected.