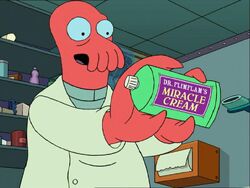 Dr. Flimflam's Miracle Cream is a special cream given to Fry and Leela by Zoidberg in order to cure themselves from aches and pains. Fry and Leela discover it may cause strange side effects. These include: flight, invulnerability, super strength, lickity speed and the ability to command the loyalty of sea creatures: though they don't get the last one.
Using this cream, Fry and Leela decide to become super heroes and fight crime in New New York. They become Captain Yesterday and Clobberella, members of The New Justice Team.
Alienese
Edit
The Alienese warning on the miracle cream tube reads: "KEEP OUT OF REACH OF CHILDREN UNDER THE AGE OF FIVE HUNDRED. FOR BEST RESULTS SACRIFICE A SMALL MAMMAL XANROC THEN APPLY EVENLY TO INTERIOR OF EYEBALL. WOULD YOU LIKE TO SELL DR. FLIMFLAM PRODUCTS? CONTACT A REPRESENTATIVE AT A COVERED WAGON NEAR YOU."
Appearances
Edit
Ad blocker interference detected!
Wikia is a free-to-use site that makes money from advertising. We have a modified experience for viewers using ad blockers

Wikia is not accessible if you've made further modifications. Remove the custom ad blocker rule(s) and the page will load as expected.