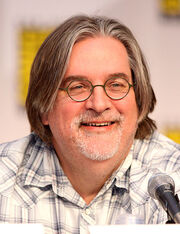 Matthew Abram "Matt" Groening (born February 15, 1954) is an American cartoonist, who is best known for creating the American animated television series The Simpsons and Futurama, as well as the comic strip, Life in Hell.
After spending several years researching science fiction, Groening teamed with The Simpsons staff writer David X. Cohen (then known as David S. Cohen) to develop Futurama, an animated series about life in the year 3000.
External links
Edit
Ad blocker interference detected!
Wikia is a free-to-use site that makes money from advertising. We have a modified experience for viewers using ad blockers

Wikia is not accessible if you've made further modifications. Remove the custom ad blocker rule(s) and the page will load as expected.