"I hate being a man! I smell bad, my face is scratchy, and the food at those strip clubs is terrible."
―Male Leela
Male Leela, hence the name, is a gender-swapped version of Turanga Leela. In the episode Neutopia, she temporarily becomes a man. The notable differences between him and his female counterpart Leela is that he wears his hair in a low ponytail, has a five-o-clock shadow, no eyelashes, he doesn't wear lipstick, and is muscular.
It's hinted that like female Leela, he is in love with Fry's female counterpart, as he is the only one who took pictures of her for the calendar, and neither Male Amy nor Male LaBarbara were present at Fry's shoot.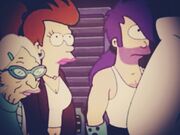 Ad blocker interference detected!
Wikia is a free-to-use site that makes money from advertising. We have a modified experience for viewers using ad blockers

Wikia is not accessible if you've made further modifications. Remove the custom ad blocker rule(s) and the page will load as expected.