This article is a Stub!

If you help Bender improve it, he can get back to killing all humans.
Please expand the article as well as you can!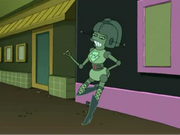 Hookerbots are the robotic equivalent of human prostitutes and strippers. Though apparently designed for robots, they seem to be enjoyed by humans as well. Bender Bending Rodríguez is a frequent user of Hookerbots, though it is a sin according to Robotology.
Known Hookerbots charge between 25 cents and $300 for their services.
Appearances
Edit
" The beast with billion backs
Ad blocker interference detected!
Wikia is a free-to-use site that makes money from advertising. We have a modified experience for viewers using ad blockers

Wikia is not accessible if you've made further modifications. Remove the custom ad blocker rule(s) and the page will load as expected.