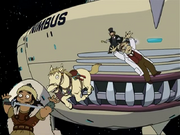 History's Greatest Villains is Zapp Brannigan's label for the personalities of Attila the Hun, Evil Lincoln, Jack the Ripper, and Professor Moriarty.
During an incident with the holo-shed upon the Nimbus, these figures came alive and caused mayhem on the bridge.
Zapp Brannigan sent them afloat in outer space when he shot a hole in the hull, despite Attila the Hun's concerns.
Appearances
Edit
Ad blocker interference detected!
Wikia is a free-to-use site that makes money from advertising. We have a modified experience for viewers using ad blockers

Wikia is not accessible if you've made further modifications. Remove the custom ad blocker rule(s) and the page will load as expected.