"Waka-waka-waka"
―Colin Pac-Man
Colin Pac-Man was a defender of Earth and enlists Fry to help save Earth from the Space Invaders. He leads the Planet Express crew through his maze avoiding the evil ghosts, and out the other end to fight the Invaders. He ends up getting killed and Ms. Pac-Man, his wife, cries over his dead body.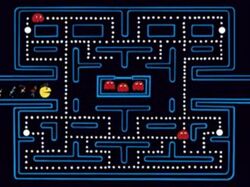 Appearances
Edit
Ad blocker interference detected!
Wikia is a free-to-use site that makes money from advertising. We have a modified experience for viewers using ad blockers

Wikia is not accessible if you've made further modifications. Remove the custom ad blocker rule(s) and the page will load as expected.