Futurella was a television series created by Matt Groening's head and David X. Cohen's head, and set in the year 4000.
The show was cancelled by the Fox Network about six seconds into the airing of the pilot at Comic-Con 3010.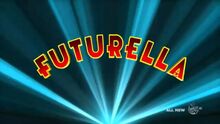 Appearances
Edit
Ad blocker interference detected!
Wikia is a free-to-use site that makes money from advertising. We have a modified experience for viewers using ad blockers

Wikia is not accessible if you've made further modifications. Remove the custom ad blocker rule(s) and the page will load as expected.