This article is a Stub!

If you help Bender improve it, he can get back to killing all humans.
Please expand the article as well as you can!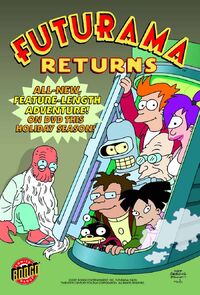 Futurama Returns is a special, one time printed, comic book. It was only available at the 2007 Comic Convention. The cover art shows the crew thawed out except Zoidberg, who is an old crab.
Ad blocker interference detected!
Wikia is a free-to-use site that makes money from advertising. We have a modified experience for viewers using ad blockers

Wikia is not accessible if you've made further modifications. Remove the custom ad blocker rule(s) and the page will load as expected.