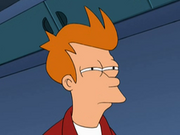 The Fry meme, also known as Not Sure If, is an Internet meme revolving around Philip J. Fry from Futurama, in which he is seen narrowing his eyes. The original photo was from the season 2 episode The Lesser of Two Evils, in which Fry narrows his eyes in suspicion of Flexo pretending to be Bender. The meme was used by Comedy Central as the title caption for the season 7 episode The Bots and the Bees.



Ad blocker interference detected!
Wikia is a free-to-use site that makes money from advertising. We have a modified experience for viewers using ad blockers

Wikia is not accessible if you've made further modifications. Remove the custom ad blocker rule(s) and the page will load as expected.