In "Neutopia", Philip J. Fry I temporarily becomes a woman.
She resembles her male counterpart, only she has lipstick, earrings, and her hair is wrapped up in a ponytail. She wears a skirt instead of pants and a shorter white shirt, so one can see her belly.
She still has her male counterpart's goofyness and funny personality, saying "now when I say stupid things, guys all laugh and buy me stuff."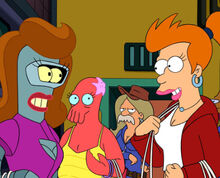 Ad blocker interference detected!
Wikia is a free-to-use site that makes money from advertising. We have a modified experience for viewers using ad blockers

Wikia is not accessible if you've made further modifications. Remove the custom ad blocker rule(s) and the page will load as expected.