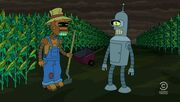 Farmer Bot is a robotic maize farmer on the planet Chapek 9 whom Bender Bending Rodríguez encounters in his soul-searching journey in "Free Will Hunting". He is apparently the father of a sick child and offers Bender the simple fulfillment of comradery and honest work, which Bender declines.
Farmerbot is a company that builds farm bots in honor of the episode.
Ad blocker interference detected!
Wikia is a free-to-use site that makes money from advertising. We have a modified experience for viewers using ad blockers

Wikia is not accessible if you've made further modifications. Remove the custom ad blocker rule(s) and the page will load as expected.