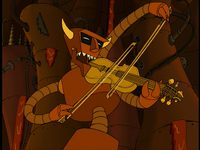 The Fairness in Hell Act of 2275, created in 2275, is an official act that means that the Robot Devil must inform people that they can rescue any robot they want if they can manage to beat the Robot Devil in a fiddle contest using a Solid Gold Fiddle. The winner receives the fiddle and the robot. If they lose, they receive a smaller, silver fiddle and will be killed.
Appearances
Edit
Ad blocker interference detected!
Wikia is a free-to-use site that makes money from advertising. We have a modified experience for viewers using ad blockers

Wikia is not accessible if you've made further modifications. Remove the custom ad blocker rule(s) and the page will load as expected.