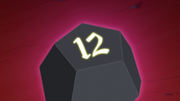 The Die of Power was originally the Anti-Backwards Crystal. Dwight painted numbers on it, turning it into a D12; allowing Dwight and Cubert to play Dungeons & Dragons. This die was what caused the Planet Express Crew to get sucked into Cornwood in the first place. It was destroyed by Professor Farnsworth and Igner.
Known effects
Edit
When rolled, the Die of Power has one of twelve different effects.
3: Grow
7: Banish
12: Mirror Mania
The Die of Power is equal to the One Ring from The Lord of the Rings.
Appearances
Edit
Ad blocker interference detected!
Wikia is a free-to-use site that makes money from advertising. We have a modified experience for viewers using ad blockers

Wikia is not accessible if you've made further modifications. Remove the custom ad blocker rule(s) and the page will load as expected.