Dean Epsilon is a dean at Mars University who attends Farnsworth's surprise 150th birthday party. According to Professor Farnsworth, Dean Epsilon was involved with the controversial "Department of Pool Boy Studies" at Mars University.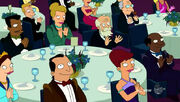 He is later seen at the Astor Endowment Fundraiser for the United Mutant Scholarship Fund in September of 3010. It's possible he was a guest of honor, given that he is an important figure in education.
Appearances
Edit
Ad blocker interference detected!
Wikia is a free-to-use site that makes money from advertising. We have a modified experience for viewers using ad blockers

Wikia is not accessible if you've made further modifications. Remove the custom ad blocker rule(s) and the page will load as expected.