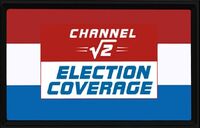 Channel √2 is a news channel hosted by Linda and Morbo, and was known to cover breaking stories and interviewed important people. It is based in Los Angeles [1] but has visited New New York on many times.
News Covered
Edit
Possible Destruction of New New York via the Giant Garbage Ball.
Mittens the kitten's broken arms and legs
Presidential Election of 3002.
Collapse of a mine on Saturn's moon of Titan
Report on homeless Robots during Xmas.
Mom's Robot revolution
Xmas warnings.
The oil spill on Pluto
Rising dark matter prices
Safe Return of a Talking Horse to the Meat Department
Hovercopter crash
The legalization of Robosexual marriage by the Proposition ∞
DOOM!
Emperor Nikolai's visit to New New York
Channel √2 News Studio Location
Edit
There is some question of where Channel √2 News is filmed. It is known that Morbo and Linda were mugged by their studio cameras in New New York during the events of the Robot Revolution in 3002.[2] On the other hand, in 3004 the backdrop for the news desk featured a shot of the famous HOLLYWOOD sign and it is stated that they are in Los Angeles.[3] It thus seems likely that they are primarily based in Los Angeles but can go on location for major stories.
Appearances
Edit
Footnotes
Edit
Ad blocker interference detected!
Wikia is a free-to-use site that makes money from advertising. We have a modified experience for viewers using ad blockers

Wikia is not accessible if you've made further modifications. Remove the custom ad blocker rule(s) and the page will load as expected.