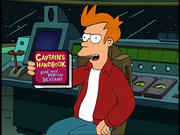 The Captain's Handbook is a book describing how to command any type of vehicle. It comes with a pop-up sextant, a tool used for navigation which is useless in space. Peter Parrot's rules of captaining are also in the book. The first rule of Peter Parrot is "always respect the chain o' command."
Appearances
Edit
Ad blocker interference detected!
Wikia is a free-to-use site that makes money from advertising. We have a modified experience for viewers using ad blockers

Wikia is not accessible if you've made further modifications. Remove the custom ad blocker rule(s) and the page will load as expected.