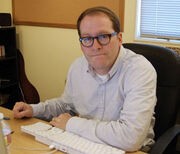 William Leonard "Bill" Odenkirk, Ph.D. (b. October 13, 1965) is an American comedy writer.
He is the brother of American comedian Bob Odenkirk. Bill also worked on Mr. Show.
He went on to write for Tenacious D: The Complete Masterworks, Futurama, and most recently The Simpsons.
He holds a Ph.D. in Inorganic Chemistry from the University of Chicago and is known among comedy writers for his powerful intellect.
External Links
Edit
Ad blocker interference detected!
Wikia is a free-to-use site that makes money from advertising. We have a modified experience for viewers using ad blockers

Wikia is not accessible if you've made further modifications. Remove the custom ad blocker rule(s) and the page will load as expected.