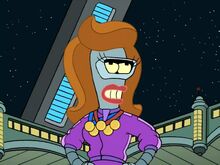 "All this inspiring multi-culturalism is angrying up my blood!"
―Hubert J. Farnsworth
The 3004 Earth Olympiad is an olympic events that was set in the United States of America on Earth in the year 3004. Bender took part under a female persona, Coilette. Hermes also took part in the 100M Limbo using the Professor's Flabo Dynamic Suit.
Nations in Attendance
Edit
Barbados
Belgium
Canada
Chile
Jamaica
Japan
South Korea
United Kingdom
Olympic Events
Edit
Robot Events
Edit
Human Events
Edit
Appearances
Edit
Ad blocker interference detected!
Wikia is a free-to-use site that makes money from advertising. We have a modified experience for viewers using ad blockers

Wikia is not accessible if you've made further modifications. Remove the custom ad blocker rule(s) and the page will load as expected.